SINGER 7258 Stylist 100-Stitch Computerized Free-Arm Sewing Machine with Instructional DVD and More
SINGER 7258 Stylist 100-Stitch Computerized Free-Arm Sewing Machine with Instructional DVD and More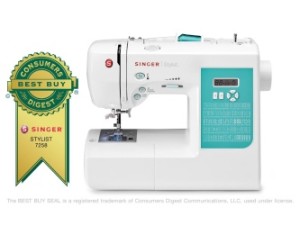 Price: $153.42
The SINGER 7258 Stylist 100-Stitch Computerized Free-Arm Sewing Machine with Instructional DVD and More was reviewed by purchasers of the SINGER 7258 Stylist 100-Stitch Computerized Free-Arm Sewing Machine with Instructional DVD and More after uses.
Visit Website
The only negative thing I can say about this machine is this: It's so much better than my Singer Esteem II that I'm wondering just how much better an even more expensive Singer would have been. Now that I've realized how much fun a better-than-basic machine can be, I'm starting to covet the machines that will do even fancier stitches and do letters.
With that said, I didn't really need to spend more than I did on this machine. So, I'm perfectly happy!
1. The instruction manual is incredibly detailed. My basic Singer Esteem covered many features so briefly that I really didn't know what I was doing. The Stylist manual even goes so far as to explain many of the included 100 stitches. The machine is pretty self-explanatory to get setup if you've sewed before. But it's nice that any questions you have are probably in the manual and won't require a long Google search.
2. It sews VERY smoothly. And it's so much quieter than my old machine.
3. The option to have the needle stop up or down might not seem like a big deal – but it's SO convenient once you get used to it. I love it!
4. The slider to control the speed of the machine without the foot pedal also gives some speed control when the foot pedal is attached. Although my daughter is too young to sew now, I imagine that being able to limit the foot pedal's speed for a beginner will be a great plus. And when piecing together long strips of fabric, in particular, the ability to sew without the foot pedal attached is a nice luxury. I was afraid it would be scary and hard to stop. But the Start/Stop button is located in a very convenient place, making it easy to stop the machine with your finger that's feeding the fabric through.
5. The stitches are really pretty. To bring back up my old Singer Esteem II – it had some extra stitches that looked quite awful and I wondered why anyone would ever use them. I kind of expected that with this model too, but since I sew mostly children's clothing, it didn't matter a lot to me if anything but standard stitches worked. But I have been very pleasantly surprised. I've already found myself embellishing some items with the pretty choices.
6. Can you believe how many presser feet are included with this machine? Really, that alone is what sold me on it. I compared with other machines that offered all the other features except for the feet, and some were even more money. I'd never gotten to use a ruffler foot before this. No more sewing a long stitch and pulling to create my ruffle – the machine does it for me! I've been experimenting with the embroidery foot. They're all awesome.
7. The ONLY problem I've had with the machine is this: When I have the needle in the setting to end "down", and I stop and need to remove my fabric, and I turn the wheel to move the needle, the thread gets too tight (upper thread) and breaks as I pull my fabric out. I've found that the simple solution is to turn the need to the "up" position, do a quick backstitch, and the thread pulls with no problem.
8. I've had zero problems with the bobbin so far. It is super easy to load. It hasn't jammed (which my old machine did all the stinking time!). And, while the plastic cover over the bobbin compartment originally concerned me because of durability questions, I'm really liking being able to see how much bobbin thread I have left. In my old, front loading bobbin machine, I was always surprised to run out of bobbin thread….often after having sewn a very long time without it (a big pain). Now I can keep an easy eye on it without having to unthread it.
So that's it. I love this machine. If you can afford a much more expensive machine, like $500+, then get it. But if you're looking in the $190-$300 range, this one seems to be one of the best. And if you're just starting sewing, skip the $100 machines and just go straight for this model. It's affordable, and makes sewing seem easier because the machine just does what it should.
This informative review is just what I needed, & includes all I need to know. Reviews of other (cheaper) machines by Amazon users had already saved me from buying those. This will be a birthday gift from my elderly mother, so I was reluctant to spend quite this much; but now I'm convinced that this is the machine for me. (I'll be sure to make something for Mother as one of my 1st projects!)
I have sewn very little in my long life, & don't plan to make it a really big new hobby (tho' you never know till you start). But the less experienced you are, the more you need a good instruction manual, which this one seems to have. Reliability is important too, and this one seems to have that covered, as well.
I just hope that one day I'll be smarter about sewing, so I'll be able to appreciate the value of changing the "presser foot," since Matthew Wilson has pointed out its importance! I hope he's right about the user manual, because I'm ready to start learning.
The SINGER 7258 Stylist 100-Stitch Computerized Free-Arm Sewing Machine with Instructional DVD and More is top rated by 132 of 187 individuals who purchased this machine